Call of Duty: WW2 is an FPS PC game developed by Sledgehammer Games in cooperation with Raven Software and published by Activision in 2017. It is the 1st game in the COD series to be set in the period of World War 2 since released in 2008 World at War. The game features the single-player campaign, taking players through the events of Operation Cobra and Battle of Bulge; online multiplayer, where players are pitted against each other as either Axis or Allies; and "the Nazi Zombie" mode, where players must cooperate to survive against the undead Nazi army.
Plot of the game and characters
The plot of the single-player campaign of the game takes place during major military operations of Second World War – The D-Day, Operation Cobra and the Battle of Bulge. The main character of CoD: WWII is U.S. Army Private First Class Red Daniels – the member of 1st Infantry Division. He and his platoon march across war-torn Europe taking part in decisive battles of World War II. It is a dangerous road, one that will test the loyalty and strength of bonds between the men.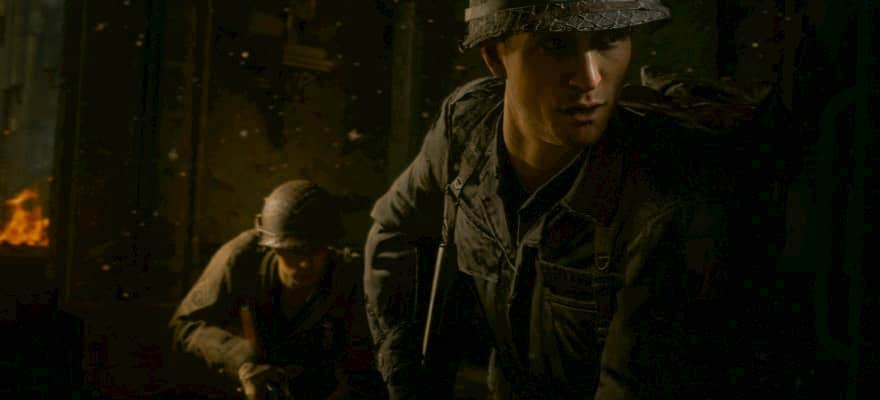 Gameplay
Due to its more realistic approach and historical setting WW2 does away with many of the staples of previous games in the series, set in modern and even futuristic times, such as wall runs, double jumps and power slides. Instead of the latter, a new mechanic called "hit the deck" was introduced. This move allows the player to lunge forward and quickly get to cover. The unlimited sprint mode from two previous titles in the series makes its return.
The single player campaign also reintroduces health bar system from earliest installments. Instead of finding cover and waiting for health to regenerate over time, players must seek out health packs to restore lost HP. Health packs are also provided by main character's squadmates, who will also support player with additional ammunition and grenades. They can also call in a mortar strike and spot enemies, revealing their position to the player. Certain parts of the game allow capturing prisoners and dragging wounded allies to cover. In some sections, the player can control vehicles.
Online modes
Call of Duty: WWII includes a multiplayer mode, in which players compete online as either Axis or Allies. On Allies side, players can choose from American, British and Soviet armies, as well as the French Resistance. On the Axis side, there are only members of Wehrmacht. WWII's multiplayer introduces Divisions system, which replaced traditional create-a-class mechanic. There are five divisions in total, each with different basic training, division training and weapons skills. While progressing through ranks in divisions, players gain additional perks.
The divisions player can choose in multiplayer are:
Infantry – the most versatile, mid to long range, special skill is bayonet charge;
Airborne – fast and quiet, players can use suppressors on sub-machine guns for stealth gameplay;
Armored – heavy firepower, less damage from fire and explosives;
Mountain – long ranged, more precise sniper rifles with aim assist, blocking out surroundings
Expeditionary – shotguns with incendiary rounds, lethal and tactical grenades replenished by killing enemies;
Resistance – stealth close quarter combat with knife and pistol, sense nearby enemies and scramble their radar at close range;
Cavalry – riot shield increases defense, charge at enemies, improved objective skills;
Commando – allows lacing flare on the map, creating respawn point, perks focused on health regeneration.
COD: WW2 includes Headquarters mode which serves as a social hub of the game, where players can train at the shooting range with all available weapons, watch other player open loot boxes as well as take them on in one on one duels. Partnership with Raven Software resulted in a new mode called "War". Two teams of 6 gamers carry objectives as either Allies or Axis through various historical battles, such as Normandy landing, where players can either assault Omaha beach as Allies or defend it as the Axis. Other multiplayer game modes include Team Deathmatch, Domination and Hardpoint.
Nazi zombies
Wave-based survival cooperative game mode, popularized by the series, where players take control of one of four characters, each representing different class: Offense, Control, Medic and Support, which possess different in-game abilities, specific loadouts and Raven Mods – perks similar to those in multiplayer. The mode includes a hint mechanic which helps players progress through the story of the mode.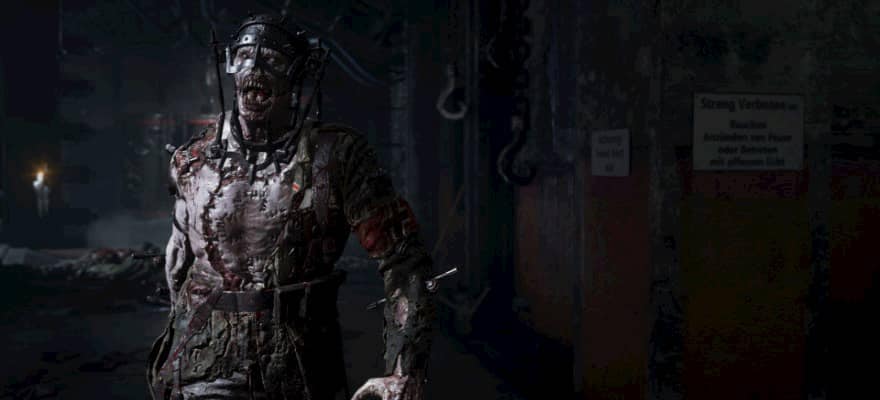 Specification:
Call of Duty: WWII Steam Key EUROPE
Platform

Steam

Region

EUROPE

Windows minimum requirements

<strong>Minimum:</strong><ul class='bb_ul'>
<li><strong>OS:</strong>Windows 7 64-Bit or later<br></li>
<li><strong>Processor:</strong>Intel Core i3 3225 3.3 GHz or AMD Ryzen 5 1400<br></li>
<li><strong>Memory:</strong>8 GB RAM<br> </li>
<li><strong>Graphics:</strong>NVIDIA GeForce GTX 660 2 GB / GTX 1050 or ATI Radeon HD 7850 2GB / AMD RX 550<br> </li>
<li><strong>Hard Drive:</strong>90 GB</li>
</ul>
No more offers for this product!
Call of Duty: WWII Steam Key EUROPE