Dark Souls is known for its difficulty, which makes every encounter equally thrilling and excruciating, especially the fights with powerful bosses. The remastered version was released in May 2018 and introduced players to updated graphics, frame rate and online features.
What's new, and what changes were made?
Remastered version introduces multiple changes. These include changes in the visuals such as native 4K resolution at 60fps on the PC, compared to 720p of the original. Multiplayer has also been revamped. Instead of p2p, the Dark Souls Remastered multiplayer runs on a dedicated server. The number of players that can play at one time has risen from 4 to 6 (the cap number of players becomes available after using an item).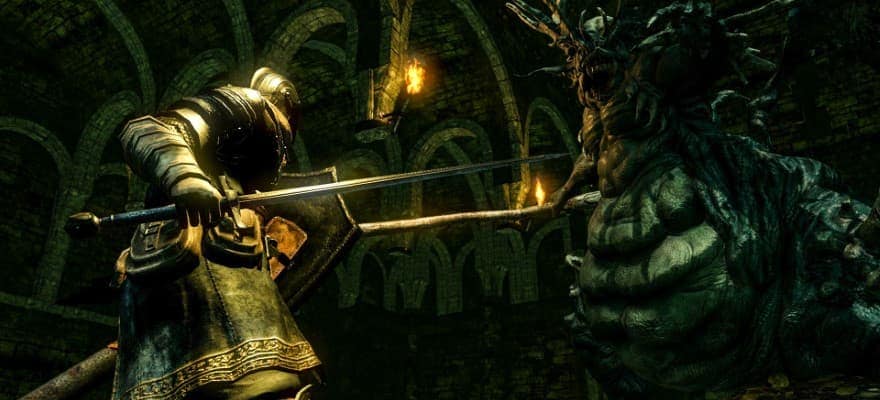 Improved matchmaking adjusts guest player levels to the host level. Global matchmaking can be turned on/off. Game also includes password matchmaking, introduced in Dark Souls III. In arena mode a 3 and 6-player deathmatch was introduced, as well as password matchmaking and randomized respawn points. Core gameplay mechanics have also been improved with such changes as the selectable number of items, added bonfire next to Vamos the Blacksmith, covenants changeable at the bonfires, and customizable button configuration.
Story and characters
The premise, introduced in the opening cutscene, is that the world was ruled by dragons until a man named Gwyn came by an item called the "First Flame" and uses it to find "Lord Souls". He uses them to lead his allies to defeat the dragons, bringing forth the Age of Fire. When the flames began to die out, Gwyn sacrificed himself to keep them lit. This released the curse which caused certain humans to resurrect after they die, including the main character of the game. As the chosen undead, the protagonist travels through the game world, defeating monstrous beasts.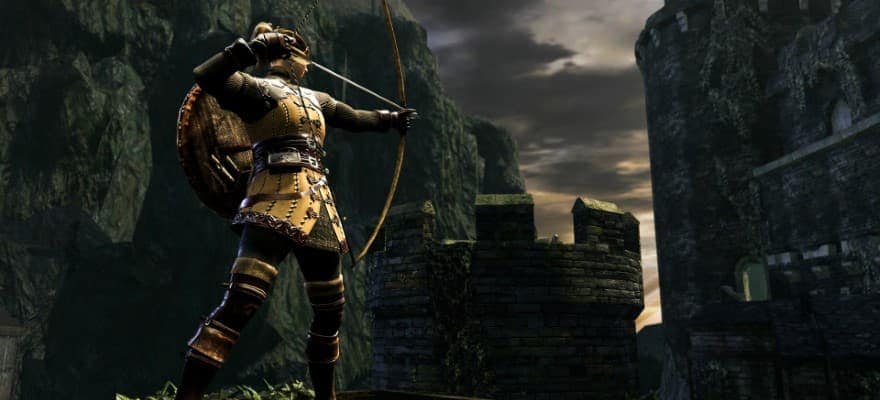 Gameplay
Dark Souls Remaster is a third-person action role-playing game focused on a careful and cautious exploration of the world game. The game encourages learning from past mistakes and finding new ways of exploration. DS is set in an open world environment, connected by a central hub area. Players can travel freely and explore the areas, but some are locked behind certain conditions. The game uses a system of Bonfires, which serve as checkpoints at the given level. While resting at the Bonfire, character's health and healing charges are restored, but all enemies (except bosses and mini bosses) respawn.
Another system introduced in the game is "Humanity". When the player dies, respawn at the nearest Bonfire as a hollow. The only way to return to human form is to consume an item, also called "Humanity".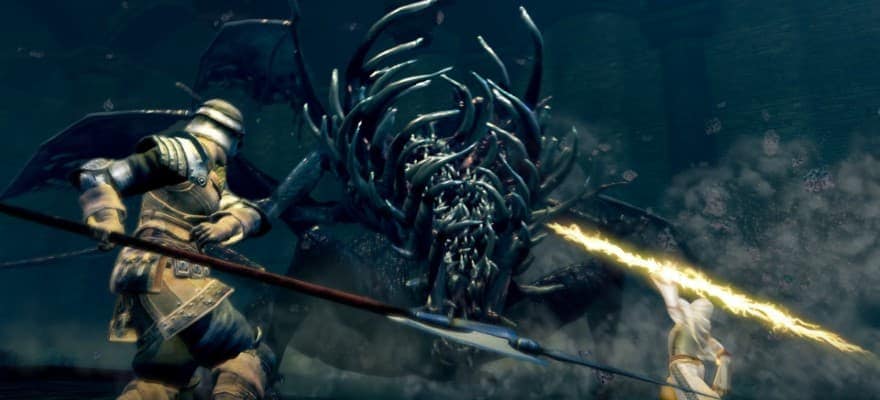 The human form allows for assistance from other players, but the player can progress in hollow form. Upon becoming a hollow, the player loses all items, and humanity, and must travel back to where they died to collect them. If they die on the way, the items are lost for good. Combat in DS is a very complex system involving a variety of factors. The player character possesses stamina which depletes with every action taken in battle. Stamina regenerates when actions stop, making each battle a test of player's tactical skills.
Online features of Dark Souls are a trademark of the series. Players are unable to directly communicate in ways other than hand gestures. They can use orange soapstones to leave short messages for players in the same area. The game also offers cooperative or PVP combat modes.
Players reception
The remastered version of Dark Souls gathered mixed opinions from the players. The positive opinions stemmed from the fact that it was still the Dark Souls game they knew and loved. Critics praised revised performance and visual effects. However, the consensus on the remaster was that it lacked in any significant changes to draw in players who bought the original game. If you didn't have a chance to play DS on release, you should give this remaster a chance. Purchasing guarantees immediate access to the Steam key.
Specification:
Dark Souls: Remastered Steam Key GLOBAL
Platform

Steam

Region

GLOBAL

Windows minimum requirements

<strong>Minimum:</strong><ul class='bb_ul'>
<li><strong>OS:</strong>Windows 7 SP1 64bit, Windows 8.1 64bit Windows 10 64bit<br></li>
<li><strong>Processor:</strong>AMD FX-8150 / AMD Ryzen 3 1300X or Intel Core I5-2500K<br></li>
<li><strong>Memory:</strong>4 GB RAM<br> </li>
<li><strong>Graphics:</strong>Minimum 2GB VRAM (AMD Radeon HD7870, etc) or Nvidia GeForce GTX760<br> </li>
<li><strong>Hard Drive:</strong>8 GB</li>
</ul>

Windows recommend requirements

<strong>Recommend:</strong><ul class='bb_ul'>
<li><strong>OS:</strong>Windows 7 SP1 64bit, Windows 8.1 64bit Windows 10 64bit<br></li>
<li><strong>Processor:</strong>AMD Ryzen 5 1500X or Intel Core I7-4790K<br></li>
<li><strong>Memory:</strong>8 GB RAM<br> </li>
<li><strong>Graphics:</strong>AMD Radeon R9 290x or Nvidia GeForce GTX970<br> </li>
<li><strong>Hard Drive:</strong>8 GB</li>
</ul>
No more offers for this product!
Dark Souls: Remastered Steam Key GLOBAL