Fallout: New Vegas is one of the best role-playing video games mixed together with a post-apocalyptic action game. Which should not be surprising judging by the fact, that it is a part of a well-acclaimed Fallout series. Ultimate Edition as the name suggest, contains all DLC's which were created for the New Vegas.
These DLC's are:
Courier's Stash was one of the first DLC for the game. It does not focus on improving gameplay or the plot of the game. However, it provides the player with an access to following content bundles – Caravan Pack, Classic Pack, Mercenary Pack, and Tribal Pack. Each pack contains really interesting items with the most valuable being Armored Vault 13 Jumpsuit.
Dead Money DLC provides you with a huge, new location known as Sierra Madre Casino. A few days before the opening, bombs fell and the casino was forgotten by everyone. Now you are going to visit the Sierra Madre Casino and you will quickly realize, that it is not as dead as you might think. Besides the new location, you are going to find dozens of new items, new creatures, characters etc.
Honest Hearts is another DLC which focus on the plot of the game. You are sent on the expedition to unexplored areas of Utah's Zion National Park. Soon your caravan is ambushed by White Legs raiders. Now you have to do everything to survive. Since the game main focus is survival, your character now can build and craft many new items. It provides you with hours of additional gameplay.
Old World Blues has a little bit of survival horror touch in it. You are abducted and experimented on by a crazy scientist, Doctor Mobius. Your task is to free yourself, run from this God-forsaken place and at the same time, take care of this crazy doctor. Visit many new locations and meet crazy scientists.
Lonesome Road – This time your story takes a full circle when you are contacted by Ulysses. He was an original courier, supposed to deliver the platinum chip but he refused to do so. He promised to give you an answer why. However, he has one last task for you to do.
Gameplay and plot Fallout: New Vegas
The plot was already described shortly when we were talking about all add-ons. To sum up, it focuses on your story as a courier who was supposed to deliver the platinum chip to a city of New Vegas. Soon enough though, you are going to find that your task is much more complicated and there is some shady business behind it.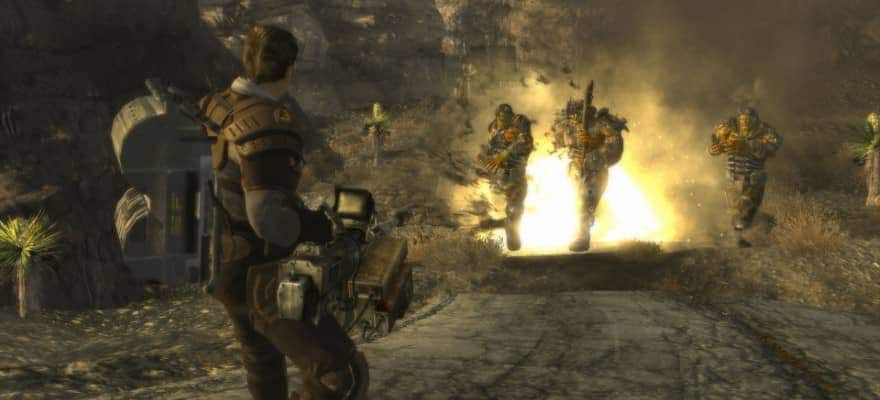 The gameplay of the game, on the other hand, focuses mainly on exploration of the desolated post-apocalyptic USA. Here you are going to fight many battles, make friends and try to survive in the middle of a war between remaining humans.
Characters and settings
There are so many characters and locations you are going to see in this game that it is hard to even grasp the tip of the iceberg. However, as the main theme of the game is the city of New Vegas, you can expect vast deserts to explore as well as remains of still functioning casinos. Characters are complex and interesting. For example, Ulysses who suddenly decided to betray Caesar. He is hiding something but he is willing to share this knowledge with you.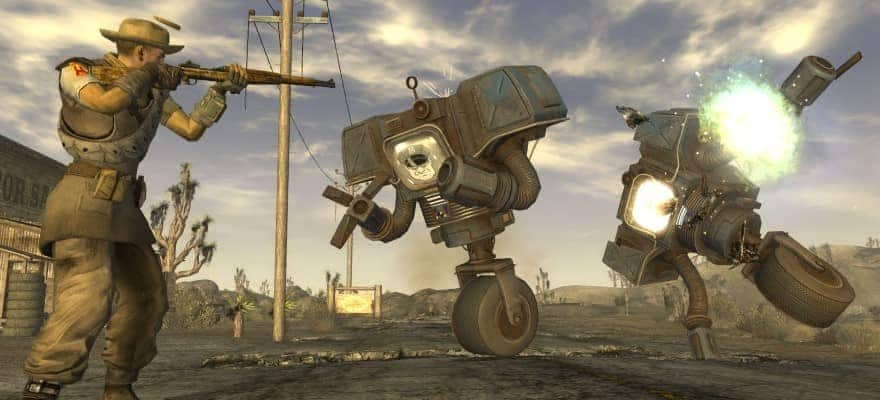 Receptions And Players Opinions
Fallout New Vegas is loved by fans of the universe. Most video game score aggregate websites have rated the game at 8 out of 10. New Vegas was appreciated by players as well as critics. Hence it gained two very important rewards—BAFTA award in 2011 as well as the NAVGTR award in the same year. These awards, are some of the most important in the industry. If you are planning to buy Fallout New Vegas Ultimate Edition check the sections with the offers of sellers.
Specification:
Fallout: New Vegas Ultimate Edition Steam Key GLOBAL
Platform

Steam

Region

GLOBAL

Windows minimum requirements

<strong>Minimum:</strong><ul class='bb_ul'>
<li><strong>OS:</strong>Windows XP<br></li>
<li><strong>Processor:</strong>2.53GHz Pentium 4 / Athlon XP 2500+<br></li>
<li><strong>Memory:</strong>1 GB<br> </li>
<li><strong>Graphics:</strong>GeForce 6800 GS / Radeon X850<br> </li>
<li><strong>Hard Drive:</strong>10 GB</li>
</ul>

Windows recommend requirements

<strong>Recommend:</strong><ul class='bb_ul'>
<li><strong>OS:</strong>Windows XP<br></li>
<li><strong>Processor:</strong>2.5GHz Pentium Dual Core E5200 / Athlon 64 X2 Dual Core 5800+<br></li>
<li><strong>Memory:</strong>3 GB<br> </li>
<li><strong>Graphics:</strong>GeForce GT 140 / Radeon HD 3870<br> </li>
<li><strong>Hard Drive:</strong>10 GB</li>
</ul>
No more offers for this product!
Fallout: New Vegas Ultimate Edition Steam Key GLOBAL