Two Point Hospital is a hospital management video game developed by Two Point Studios and published by Sega in 2018. The game lets you play the role of a hospital manager responsible for building and managing a hospital network. This includes creating specialized rooms, purchasing equipment, hiring staff, doing research, and – of course – curing the diseases. And these are quite uncommon, as the title takes a very comical approach to the genre, meaning you will meet people with turtle heads or pixelated skin, for example.
Story
The game is not driven by a story, and instead, it entirely focuses on giving you the possibility to build hospitals and take care of how effectively they are working.
Gameplay
Two Point Hospital represents the top-down genre with a simplified and cartoonish 3D environment. It features a camera that can be rotated freely to make it easier to peek behind the wall. The game lets you build and manage your own hospital network. At the beginning of the game, you will be responsible only for a single hospital, but you will unlock new hospital plots as you complete missions and earn stars in the previous locations. While managing the hospital you will need to take care of creating specialized rooms for making diagnoses, decorating the hospital to raise its prestige, and hiring new staff to take care of your patients.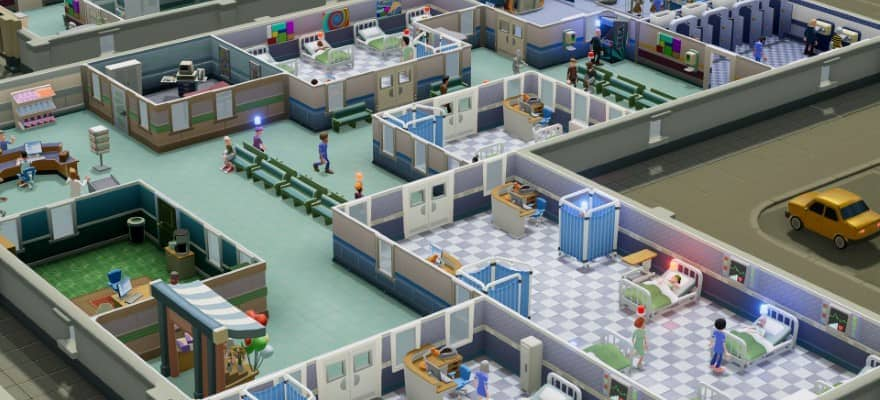 During the gameplay, you will meet patients with various diseases, some of which are harder to diagnose than the others and may require more advanced technology and more skilled personnel to do so. The diseases and treatment procedures are quite goofy, so don't be surprised when you meet someone with monobrow spawning vermin in a form of little monobeasts, for example.
Game Modes
The core of the gameplay revolves around the single-player mode, but the game can be also played in multiplayer, which is split into the co-op and competitive modes. There is also a sandbox mode, which can be played when one wishes to focus entirely on building his dream hospital without need to worry about earning enough funds.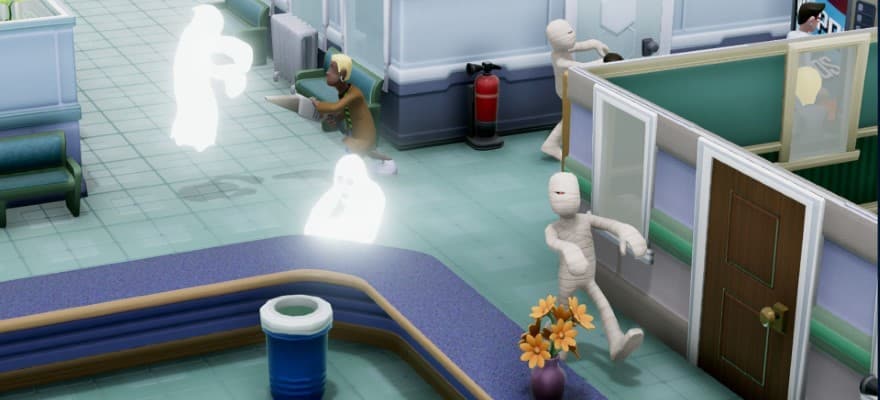 Reception
The game received very positive reviews. It was considered by critics a well-designed spiritual successor to the classic Theme Hospital simulator game from 1997. Reviewers praised the modern take on the title and game's new deeply strategic approach – Two Point Hospital is more complex than the original, and the visuals are much more up-to-date. Reviewers and players alike also noted the staggering amount of the comical elements that can keep the gameplay entertaining for much longer, resulting in an addictive experience, but in a good way.
Specification:
Two Point Hospital Steam Key GLOBAL
Platform

Steam

Region

GLOBAL

Windows minimum requirements

<strong>Minimum:</strong><ul class='bb_ul'>
<li><strong>OS:</strong>Microsoft Windows 7 64-bit<br></li>
<li><strong>Processor:</strong>Intel Core i3 6100, or equivalent AMD<br></li>
<li><strong>Memory:</strong>4 GB RAM<br> </li>
<li><strong>Graphics:</strong>NVIDIA Geforce GT 1030, 2GB (Legacy: NVIDIA GeForce GTX 460), or AMD RX550, 2GB (Legacy: AMD Radeon HD 6850). Integrated Graphics TBD<br> </li>
<li><strong>Hard Drive:</strong>6 GB available space</li>
</ul>

Windows recommend requirements

<strong>Recommend:</strong><ul class='bb_ul'>
<li><strong>OS:</strong> <br></li>
<li><strong>Processor:</strong> <br></li>
<li><strong>Memory:</strong> <br> </li>
<li><strong>Graphics:</strong> <br> </li>
<li><strong>Hard Drive:</strong> </li>
</ul>
No more offers for this product!
Two Point Hospital Steam Key GLOBAL